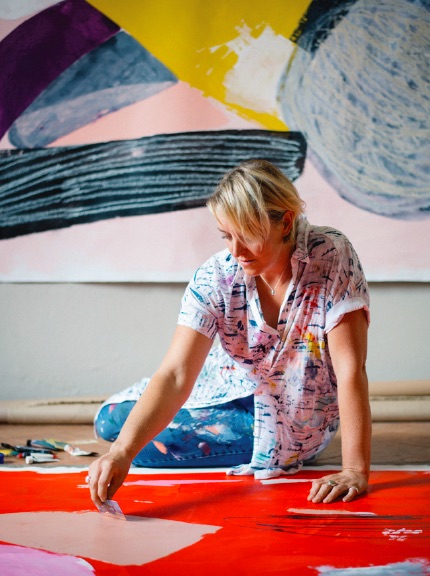 As a painter, I work impulsively, harnessing the power of gestures to create instinctive compositions that combine bold colours, dynamic marks and organic forms. Rather than using brushes or other traditional tools, I apply paint with scraps of plastic, such as hotel-room key cards, or draw and scratch at the surface using the paint tube itself. The fine edges of my chosen instruments allow me to draw long, penetrating lines and create large, highly saturated fields of colour.
Many of my paintings have a sculptural quality, thanks to the way I build up layers. I often integrate extra materials into my work to create an effect of relief, stitching extra pieces of canvas onto the surface or incorporating sections of paper with paint or glue. These different materials allow for multiple levels of colour and saturation.
For my sculptures, I start with discarded pieces of wood and transform these into unexpected, biomorphic shapes reminiscent of those found in my paintings. I use tools such as chainsaws or planers to enact this metamorphosis – an approach that recalls my use of plastic or glass in the two-dimensional pieces. In both cases, my hands-on method enables me to be as physically and emotionally connected with my work as possible, empowering me to turn the image in my mind's eye into a reality.
Bio:
As the daughter of a carpenter and an antique collector, I have been aware since childhood of the value of craftsmanship and heritage. I have always been drawn towards working with my hands – an instinct that prompted me to study art conservation and, subsequently, to gain experience in illustration, set design, prop making and styling.
Since devoting myself to making art, I have exhibited everywhere from the UK (my first solo show in 2001 was at the Stephen Lacey Gallery in London's Clerkenwell) to New York, Barcelona, Copenhagen, Berlin and the Italian city of Brescia, where I was recently the artist-in-residence at Palazzo Monti. Travel is a constant source of inspiration, enabling me to discover new landscapes whose unique qualities I endeavour to capture in my emotionally charged works.
The language of abstract expressionism, in all its beauty and ambiguity, underpins my art, which I create intuitively, connecting different forms and hues through the movement of my mark-making. I have a deep and ingrained love of light and colour, perhaps because of the year-long period of my childhood during which I suffered from an illness that caused the loss of my sight. Once recovered, I saw the world as brighter and more vibrant than before – a sharpened sensory experience that I seek to recreate in every new work.